If you're in Sales or Marketing, you've attended your fair share of meetings. Odds are if you check your Google Calendar at this very moment, it will most likely look more like a patchwork quilt of colors than a calendar.
This is the moment when the anxiety starts to sink in and you start to ask yourself:
"Why am I part of ALL these meetings?"
"What am I going to say in these meetings?"
"What am I going to gain from these meetings since I gave up an hour or more of my busy day?"
All good questions.
We are all professionals and if an hour or two of meeting time is taking you off task then you should expect that you gain something from this meeting and/or that you were able to contribute.
Now that we've addressed the frustrations with meetings in general, let's talk about meetings that affect you as a sales or marketing professional and your campaign strategies.
Generally speaking, you will have a sales meeting with someone potentially reporting out about some marketing efforts or the flip-side, you're talking about tactics in a marketing meeting but there is absolutely no clarity about what is happening with the leads or the impact on sales.
This dysfunctional system has gone on for decades and has only resulted in driving a wedge between Sales & Marketing departments worldwide.
By taking the time to run an effective smarketing meeting, which we'll cover below, you will be able to align the marketing and sales strategies to create a smooth transition for customers leading to a higher conversion rate.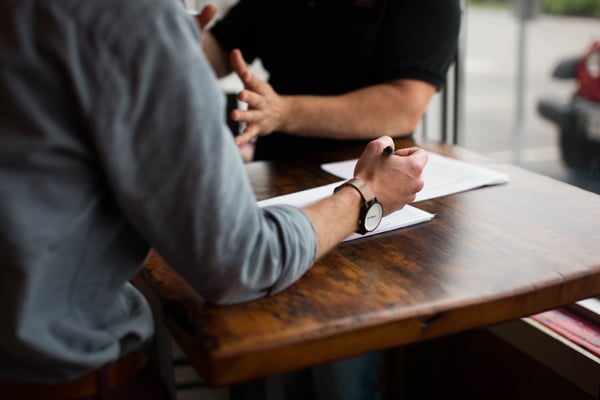 Sales + Marketing = Smarketing Basics
Smarketing is when Marketing and Sales work together as one cohesive team for a common goal. This will help with aligning your Sales and Marketing strategies.
We realize that sometimes it feels as if it is hard enough to get on the same page with your own team much less involving another department, but in this case, it will actually strengthen BOTH of your efforts.
Ultimately, Marketing is trying to aggregate leads to hand off to Sales. Sales, in turn, needs leads to close business. If you create a closed-loop system of reporting between Sales and Marketing it is beneficial to the common goal of making your company more successful and profitable. You can do this by taking the time to align Sales and Marketings Strategies.
How's that?
Well, for Marketing, it takes the guesswork out of the effectiveness of your tactics and the quality of the leads that you are providing to Sales. For Sales, it gives you the opportunity to tell Marketing which tactics are bringing the "ideal customer".
This results in a "Win-Win" all-around.
This is exactly why you need to schedule regular meetings between Sales & Marketing with the intent to make them meaningful and productive. These meetings are called "Smarketing Meetings". They will provide the opportunity for Sales and Marketing to discuss problems and collaborate on solutions leading to an alignment of Sales and Marketing strategies.
"I Get It, I Get It...But How Do I Run A Smarketing Meeting?"
Here are 3 steps for optimizing your Smarketing Meetings to ensure alignment of Sales and Marketing strategies.
Step 1: Focus On Problem-Solving
Oftentimes meetings focus on what is wrong, get off track or worse, are filled with an endless amount of slides presenting data from marketing past, present, and future. None of this is helpful and can be detrimental to the alignment between Sales and Marketing strategies.
A good smarketing meeting should be dedicated entirely to solving problems as a team. This is a time set aside for Sales and Marketing team members to talk about what things are and aren't effective and work together toward better solutions.
Below is a typical smarketing meeting agenda:
Identify challenges with current goals and initiatives
Brainstorm solutions
Assign specific tasks that are to be completed before the next meeting
Make these new initiatives, and the progress made on them, the first item to discuss on the agenda for the next meeting.

Step 2: Choose Wisely With Your Invites
Because you are combining Sales and Marketing into one collaborative meeting to align Sales and Marketing strategies, the tendency is to invite more than less, in a fear of leaving someone out.
Research shows that group meetings are more effective with 9 or fewer people. This might seem tough to cut certain people, but finding the right mix of sales and marketing team members is crucial.
Here are some guidelines for selecting the "necessary nine" (or less).
This isn't an Executive Lounge. Even though executives seem like the best choice to have at this collaborative meeting, smarketing meetings are all about brainstorming and creating solutions. Depending on your organization, sometimes an executive presence can create tension and team members might be apprehensive about introducing a new, and maybe, off the wall ideas. The freedom to brainstorm and create as a team can be powerful and you don't want to sabotage your efforts from the start.
Size does matter. If you have a large organization, you might want to break up into smaller groups and have separate smarketing meetings. This can be based on what region you are in, what the primary division mission is or what product or service lines you offer. If dividing into separate groups won't work with your organization, then consider inviting other team members on a rotating basis. This will make your smarketing meetings more inclusive and also offer a fresh perspective from time to time.
Step 3: Everyone Should Exercise Their Right To Free Speech
Research shows that meetings are more productive when everyone contributes. This is especially paramount for smarketing meetings if you want to fully align your sales and marketing strategies efficiently.
The point of these meetings is to align your sales and marketing teams in a cohesive effort. If you have one or two people doing all the talking, your smarketing meeting is doomed to fail. If you are running the smarketing meeting, make sure that everyone gets to speak about the same amount of time.
But, how do you keep track of who is speaking and how much AND still contribute?
One easy way is to bring a checklist with all the attendees' names on it when they speak up just put a mark by their name. If you find that someone isn't speaking up, you might want to ask them about their thoughts on a particular item being discussed.
If you have resistant participants, here are 5 reasons why they might still be silent.
They feel as if they have nothing to contribute. If that is true disinvite the person from any upcoming meetings and replace them with someone who would be better suited for the meeting. It's better to let them go since keeping them is just a waste of their time and won't add any value to the smarketing meeting.
They can't seem to find the opportunity to talk. A good meeting will inspire people to voice their opinions, get excited, and yes, talk over each other. As the person running the meeting, you need to identify the dominant personalities and politely reel them back in. It's great that they are excited, but this is a team effort, not a monologue.
They like to just observe. If they are providing no insight or value to the meeting, replace them for upcoming meetings with someone who can actively contribute. You can send the disinvited member a meeting recap if it is appropriate to keep them in the loop.
They totally disagree and don't want to come off as "the bad guy." This type of approach can be toxic to your goals and company culture. It will also lead to endless negative watercooler chats and wasted time. Be clear with your team that this meeting is a safe space and is meant to bring up problems and concerns and that they will be discussed.
They've got things figured out on their own and they don't need to discuss it. The idea that they have in their head might be really good, but with the addition of team insight, it could be great. Encourage them to express those ideas and collaborate with the team. It may not only make the final solution better, but they will also be getting upfront "buy-in" from the team.

Reap the Rewards of Aligned Sales and Marketing Strategies
Once you have the right Sales and Marketing team members at the table, follow these steps, and you will find that these meeting will be creative, productive as well as a meeting that everyone will look forward to seeing on their calendars.
Plus, you'll reap the rewards of aligned sales and marketing strategies as the two teams come together creating a harmonious campaign to ensure qualified leads are brought to sales and that the sales team is converting them into customers.
If all this seems too good to be true, it's not. When you take the time to align your sales and marketing teams, through smarketing meetings, you're able to flawlessly shift customers through the buying process while limiting internal tension.
If you aren't sure how aligned your sales and marketing teams are, take the time to evaluate it. This can be done in many ways but the best way is by bringing in professionals.
digitalJ2 offers a completely free sales and marketing alignment assessment where we will work with you to evaluate the two departments and assess their level of alignment. We then will work with you to create a measurable action plan to remedy the gaps of unalignment.
If this is something you're interested in, learn more and schedule your free sales and marketing alignment assessment here.
Similar Posts: