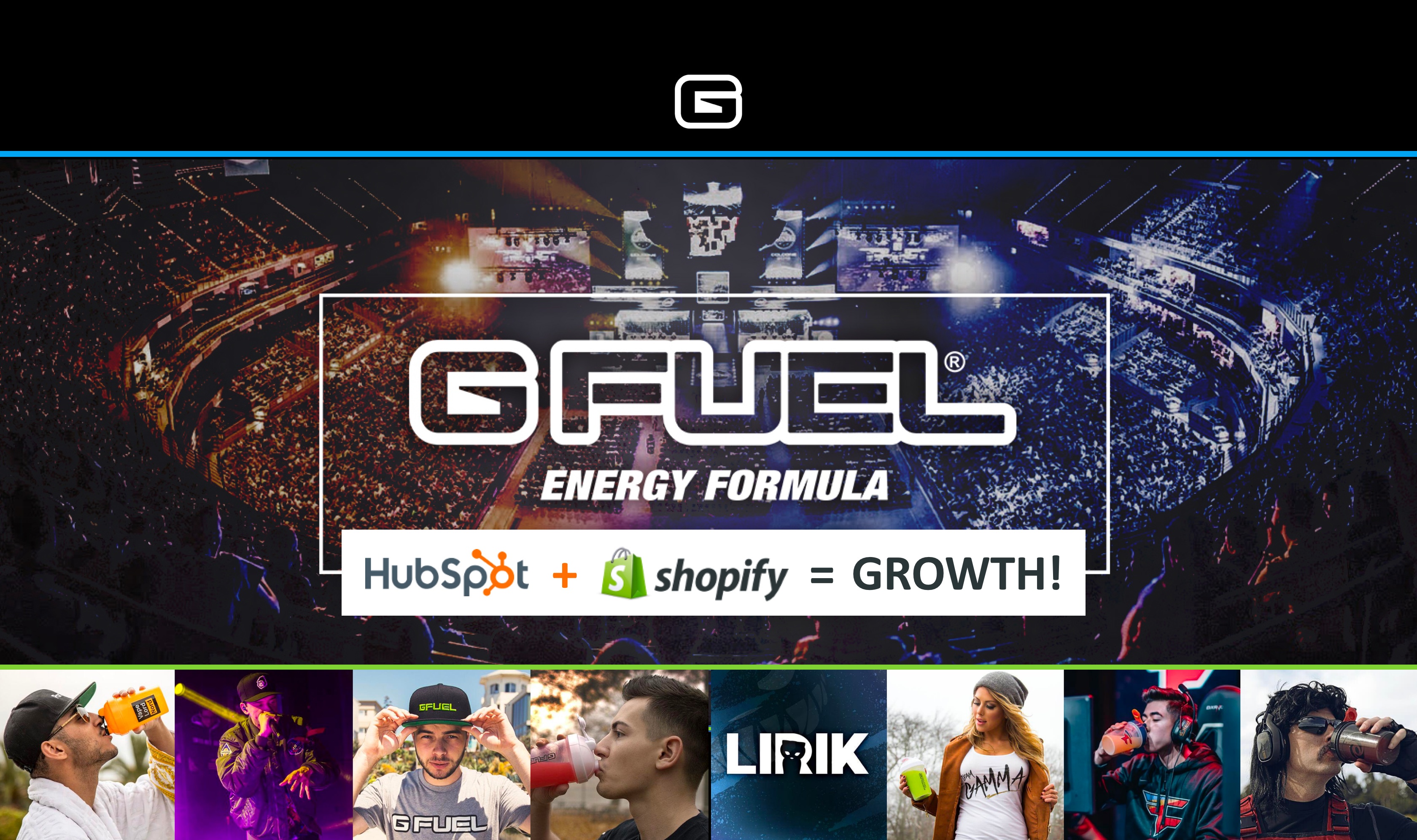 Our Super COOL Client and their Growth Challenges
This client faces the type of challenges that every company on the planet dreams about: how do we deal with hyper-growth? What's not to love here - right?
As a client, G FUEL is a super COOL company to work with! It's in a growth niche market, has a remarkable culture, great leadership, and bad-to-the-bone marketing, product management, IT and fulfillment teams that crush it every day for their customers!
To get a little taste of what the G FUEL world is all about, check out this video. Frankly, it is hard to explain in words.
Sooo... let's start with some scoop on G FUEL.
Although G FUEL was enjoying phenomenal growth acquiring new gamers, Cliff Morgan, G FUEL's Founder & CEO, recognized that the key to sustained profitable growth was to show some LOVE to existing customers.

The challenge for Cliff and his team was how to accomplish this aspiration at scale. At the time, G FUEL's marketing team was struggling with exponential growth and the complexities of managing multiple marketing platforms and needed a unified strategy and platform to move forward while continuing to scale.
Who and What is G FUEL?
G FUEL is the official energy drink of eSports, the burgeoning world of professional competitive video games. G FUEL has quickly skyrocketed to one of the fastest-growing private companies in the United States, making the Inc. 500 list in 2016. Founder and CEO Cliff Morgan has led his company and built an iconic brand that is now a staple of the eSports scene and a popular name among gamers all over the world.
Since its founding in 2004, G FUEL has grown into the second-largest powdered drink brand in the country. In recent years, G FUEL partnered with some of the biggest names in the professional gaming scene and cultivated millions of social media follows.
Gamers, both professionals and casual players alike, enjoy G FUEL for its wide variety of flavors and performance boost. Unlike other MEGA BRAND sugary energy drinks, G FUEL enhances reaction time and improves focus with a blend of electrolytes, B vitamins, and antioxidants for a healthier and more-effective energy drink. Every gamer knows that in a competitive match, victory and defeat are sometimes only fractions of a second apart, and G FUEL offers that competitive edge that other energy drinks can't match.
The G FUEL Growth Challenge
G FUEL had achieved phenomenal growth by cracking the code on influencer marketing and maintaining a front stage presence in the evolving eSports scene throughout the 2000s.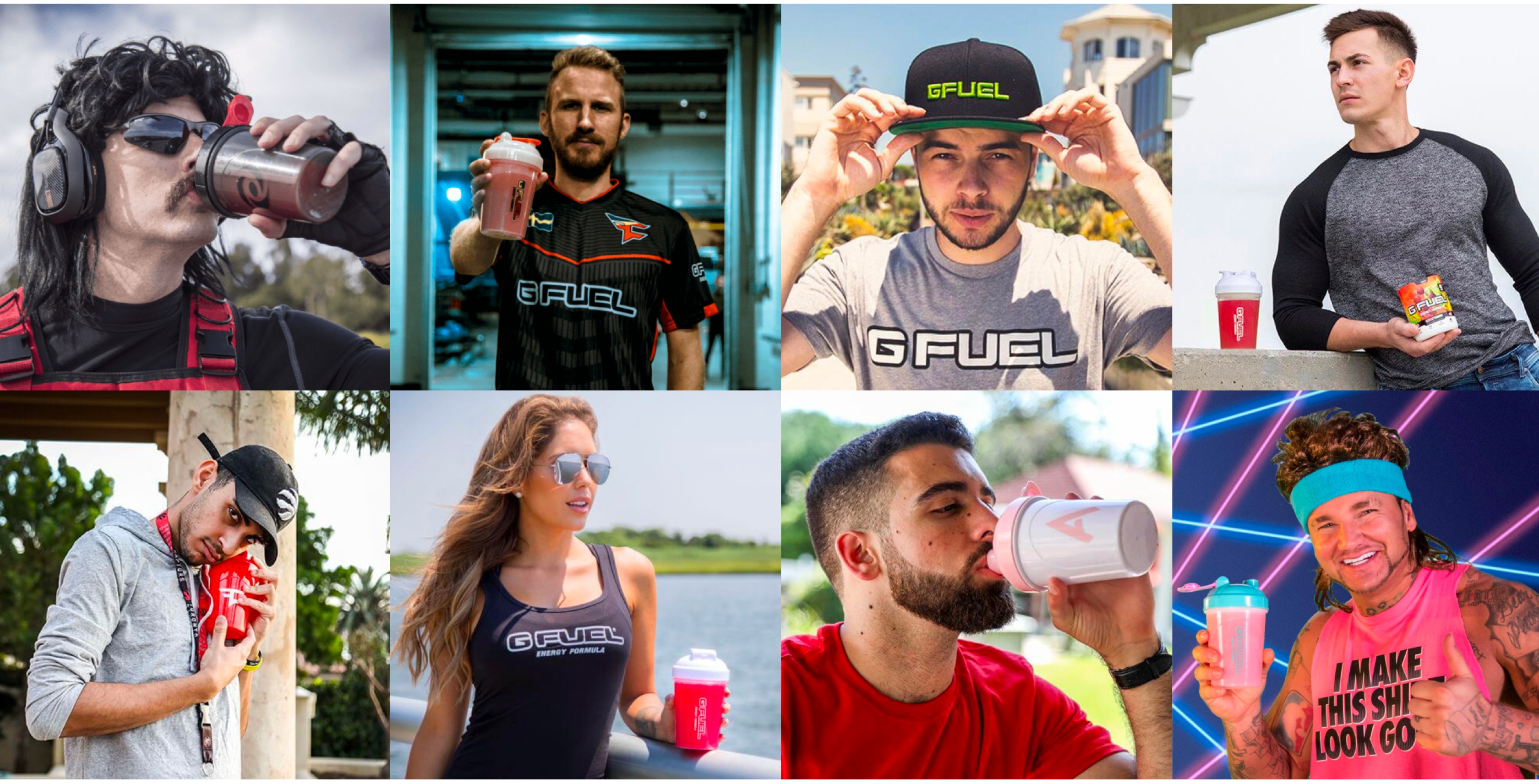 The growth challenge for G FUEL was that only 45% of their sales were coming from existing customers. In addition, after several attempts, building personal relationships at scale with its existing customers proved to be incredibly difficult. G FUEL was in a tight spot and was forced to continually bring in new customers to replace those who decided not to return.
With the help of his CTO, Michael DuBritz (aka "Magic Mike"), Cliff decided to hire digitalJ2, which is not yet an iconic household name but is known in the gaming energy drink underworld as the "secret weapon."
As a team, we worked long and hard to formulate the "new added secret ingredient" for the "secret sauce" to achieve more predictable and profitable growth:
Creating personalized customer experiences that delight customers every day,

Connect customer behavior from almost real-time e-commerce data to create some magic for the customer, and

Integrate this behavioral data with arguably the best marketing automation platform on the planet, HubSpot, to create those amazing customer experiences and increase customer lifetime value (CLV) at scale.
G FUEL's New Solution
With digitalJ2's help, G FUEL decided to deploy HubSpot and integrate it with their e-commerce platform Shopify. Revenue Conduit was selected to provide the data integration bridge between Shopify and HubSpot.

Using this data bridge, digitalJ2 then worked with G FUEL's internal marketing team to build highly segmented campaigns to grow personal relationships by creating amazing and lasting experiences with G FUEL customers that they have grown appreciate every day.
The "Secret Sauce"
With HubSpot, Shopify, and Revenue Conduit working in sync, email marketing proved to be the most effective channel of communication with existing customers. The first step in G FUEL's new strategy was to segment their customer base using past interactions, create campaigns that delivered personalized content, and offer the right message to the right customers at the right times.
As you can see, the diagram below started to look like a SpaceX mission plan to the planet Mars. Just kidding, but to be fair, this diagram only scratches the surface on the deep level of marketing automation logic that has evolved to create amazing personalized experiences for G FUEL's customers every day. G FUEL's customers invest serious time and energy to become the best gamers on the planet, and our job is to provide them the G FUEL to reach their destination.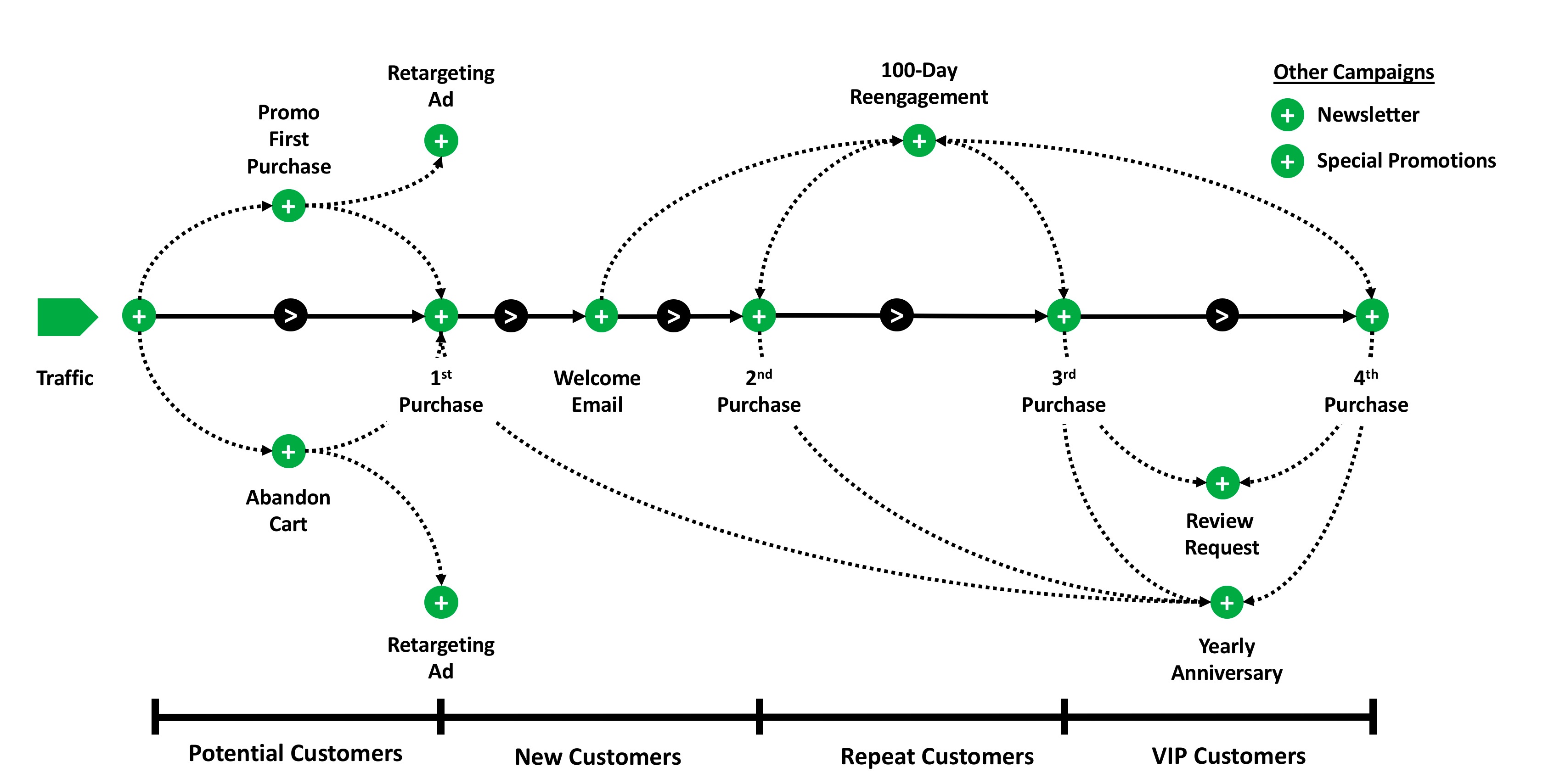 G FUEL's new email marketing campaign required careful segmentation of their customer base. Specific email campaigns reached customers based on their previous interactions (recency, frequency, and monetary value) with G FUEL.
For example, if a customer had visited the site to take advantage of a promotional offer and abandoned their shopping cart, they would be enrolled into an abandoned cart campaign to receive personalized emails with their abandoned cart information conveniently provided at set intervals to help enroll them back to complete their purchase.
In the case of a customer who made four or more purchases, this customer would be enrolled into one of a number of VIP campaigns to perhaps receive an email thanking them for the loyalty and asking them to share their experience in a product review.
The "Recipe" for the Technical Set Up
Now let's get under the hood of this rocket. WARNING: We are going to start geeking out! If you are NOT a geek, skip the techno mumbo jumbo and go to the results, which is the cherry on top!
To connect all the wires to make this happen, we as a team decided to segment G FUEL's customers into four primary groups:
Potential Customers

New Customers

Repeat Customers

VIP Customers who make regular purchases
By tailoring campaigns to these specific groups, we increased customer engagement, which in turn produced amazing results.
Creating Segmentations with HubSpot Smart Lists
By utilizing HubSpot's advanced smart list module, we were able to begin creating further segmentations of G FUEL's customer base.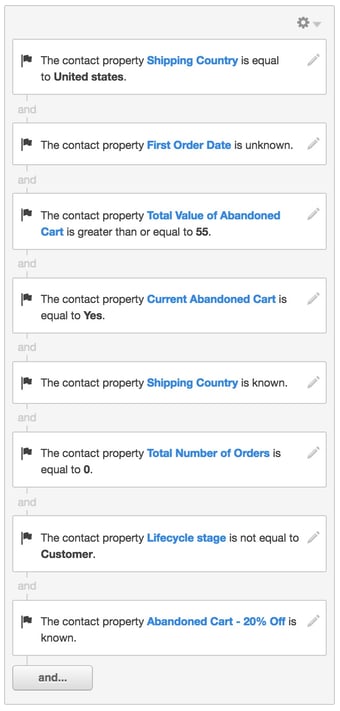 In this situation, customer segmentation was tightly coupled to past customer behavior. Recognizing this, as a starting point, we created smart lists that were dynamically populated using near real-time data to identify the following customer segments:
Customers who entered an email address for a promotional offer but did not place an order.

Customers who entered an email address for a promotional offer and made a purchase.

Customers who abandoned shopping carts.

Customers who made a one-time purchase.

Customers who made two past purchases.

Customers who made three past purchases.

Customers who made four or more purchases (VIPs).

Customers who have not purchased in the past 100 days.

One-year anniversary emails to customers who entered the G FUEL mailing list more than a year ago.
Creating Personalized Messaging with HubSpot Emails
Each of these segments then used a unique set of automated campaigns that took each recipient's "buyer's journey" into account. Our goal as a team was to help our ideal prospects become first-time customers and ultimately develop personalized relationships to enroll these customers for life.
Example: Abandoned Cart Email
Below is an example of the type of personalized email a customer who may have been distracted at checkout from an alien invasion or something of that magnitude would receive. If you study the email carefully, you will find that it is highly personalized and contains the order information when the cart was abandoned, to help our customers get refueled with G FUEL to maintain their competitive edge.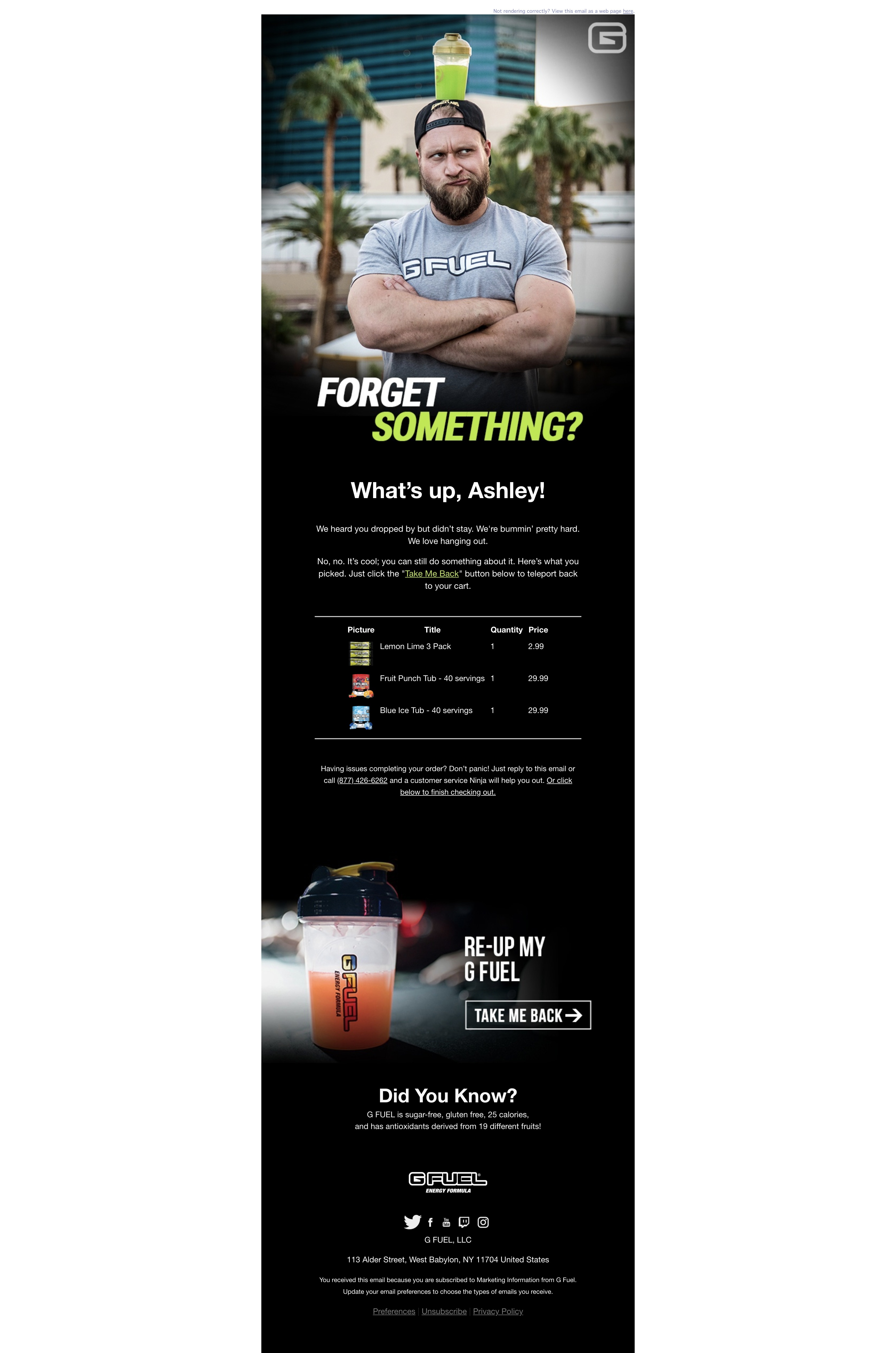 Example: Review Request
Or in this case, we have a customer who has ordered from us more than four times experiencing the competitive edge from G FUEL, so we asked for a shout-out in the form of a product review.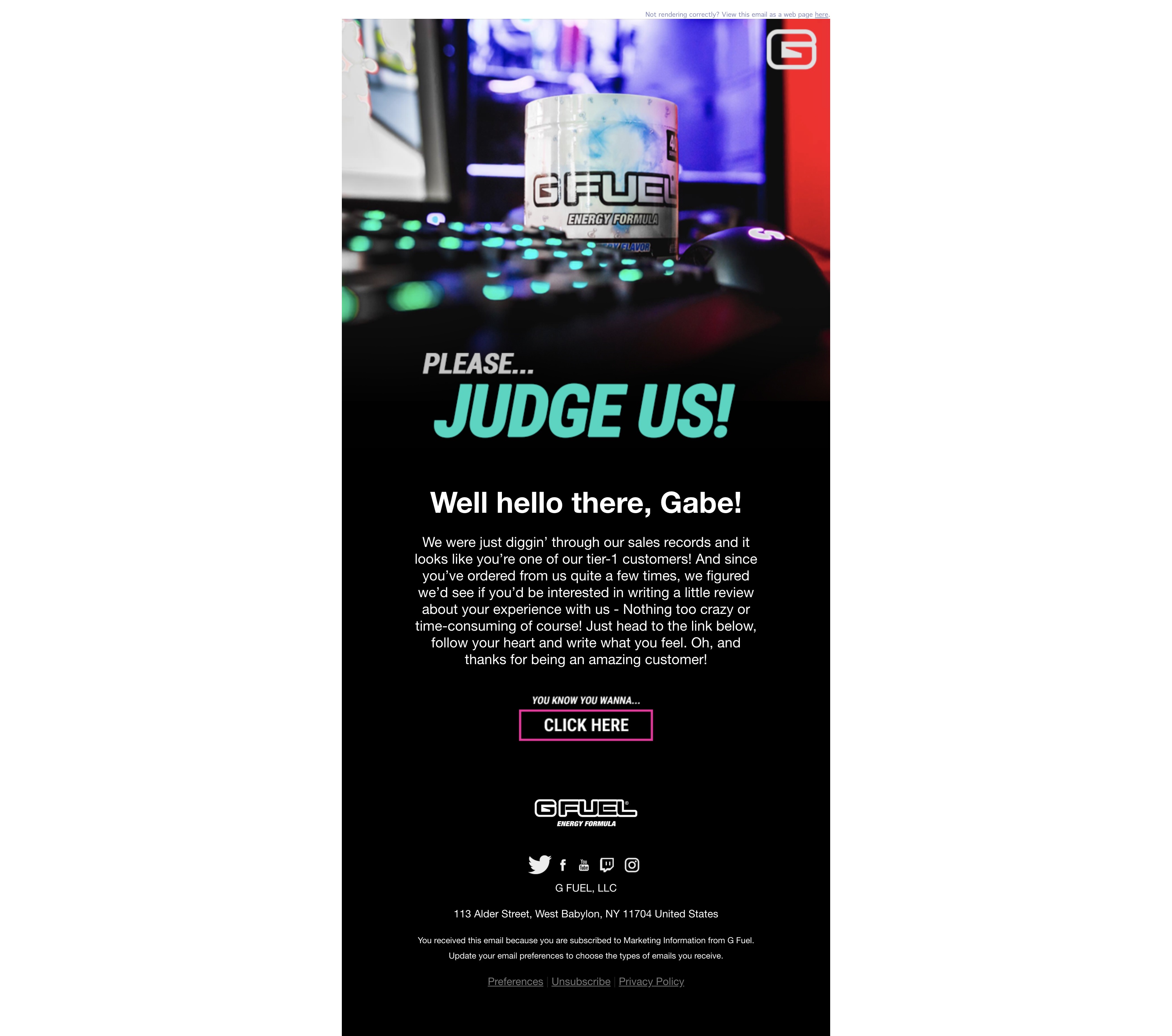 Most of G FUEL's marketing emails contain promotional offers, such as coupon codes for discounted purchases and unique promotions based on customer feedback, eSports events, and other customer behaviors. Coupon codes for these emails function on a time limit, creating a sense of urgency for the customer to return to make another purchase.
Creating Outreach Automation with HubSpot Workflows
Now we are getting a little deeper into the plumbing.

The next step after flushing out our customer segmentation strategy was to create workflows for each customer segment. This meant workflows for:
Promotion for first order

Abandoned carts

First order to second order

Second order to third order

Third order to fourth order

Customer reviews

Re-engagement after a 100-day lapse in purchasing

One-year anniversary
In the case of G FUEL and their volume of customers, it was crucial to segment email recipients carefully, so they didn't receive an influx of disassociated emails. This careful sensitivity to the customer enabled us to systematically control how many inbound messages a customer might receive during an average month.
We have found that when you send too many emails, you wind up with a high unsubscribe rate and customers may start reporting your brand for spam. The trick is to get it just right while adding value to the customer experience throughout the process.
Setting Up Reporting & Tracking with HubSpot's Reporting Add-On
With so many moving parts, we needed to set up custom reports in HubSpot to accurately identify what was and was not working. This helped us pinpoint where we needed to make campaign adjustments to improve performance. We leveraged HubSpot's Campaign and Reporting Add-On modules to create our custom reports.
The first thing we did was create a custom drop-down select contact property named "Current ROI Campaign." We created all email automation campaigns as options in the drop-down select fields as you can see below.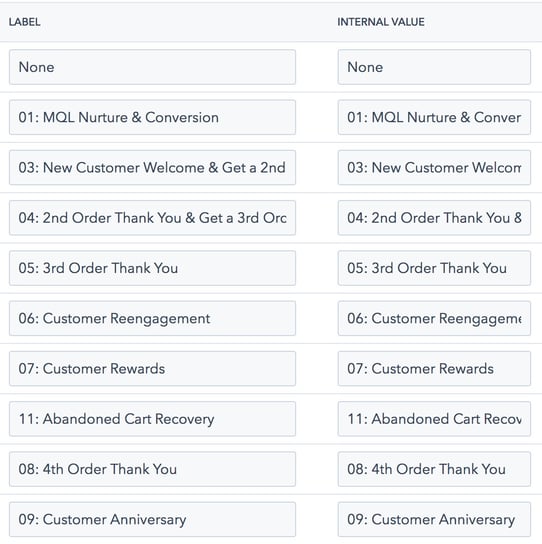 The purpose of the created contact property is to help us identify which campaign a contact is in at any given time when making a purchase. By knowing this data, we can better attribute sales towards each campaign.
The next step was to add a property select for the "Current ROI Campaign" contact property for each workflow campaign. By doing so, the "Current ROI Campaign" contact property will be set to whichever workflow that contact is enrolled in (Customer Anniversary, Abandoned Cart, etc.).
For example, if a contact was enrolled into the Customer Re-engagement campaign (last purchased date was more than 100-days), before being sent any emails, the Current ROI Campaign drop-down select would be switched from "None" to "06: Customer Re-engagement" as shown below.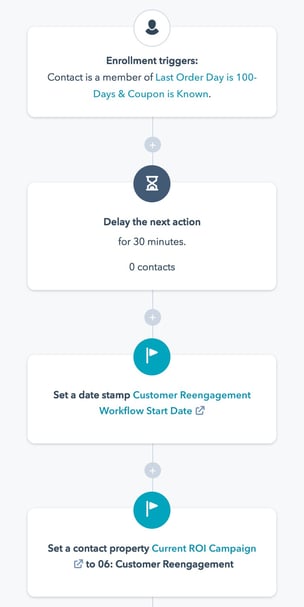 If that contact completes the "Customer Re-engagement" workflow and did not purchase while active in that workflow, the "Current ROI Campaign" drop-down select is switched back to "None."
Now, if that same contact made a purchase while active in the "Customer Re-engagement" workflow, they are unenrolled from that workflow and enrolled into our "Advanced ROI Campaign" workflow to attribute sales to that campaign.
The entire "Advanced ROI Campaign" workflow is based on 'if/then' branches. If for example, a contact enrolled in the "Customer Re-engagement" workflow makes a purchase and is enrolled into the "Advanced ROI Campaign" workflow, the contact would follow the yes logic in the if/then branch for "Current ROI Campaign" is equal to: "06: Customer Re-engagement." From that point, we would log the conversion campaign name, copy last order amount into the campaign conversion amount, stamp the current date to conversion date, and reset the "Current ROI Campaign" to "None." That way we can prove that the "Customer Re-engagement" campaign was the reason for that conversion.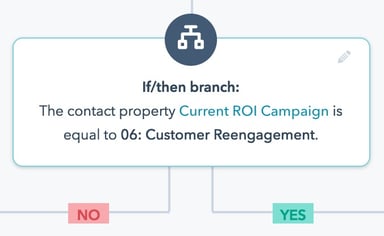 With the above data being logged for each contact, we then utilized HubSpot's Reporting Add-On module to create reporting displays for each campaign to attribute revenue.
For example, we could display an area graph showing revenue by date for each campaign from the logged contact properties above.

Note, depending on the selected attribution reporting model (first-touch, last-touch, last non-direct touch, etc.); you will change smart list criteria on converted contacts by a campaign. For example, if you wanted to attribute campaign success via last-touch attribution reporting, you would need to have a smart list of converted contacts that clicked and purchased during that session.
Now, if you wanted to feature last non-direct touch attribution reporting, you could create a smart list of converted contacts that opened any email from that campaign.
The Results
How did we measure the speed of the G FUEL rocket?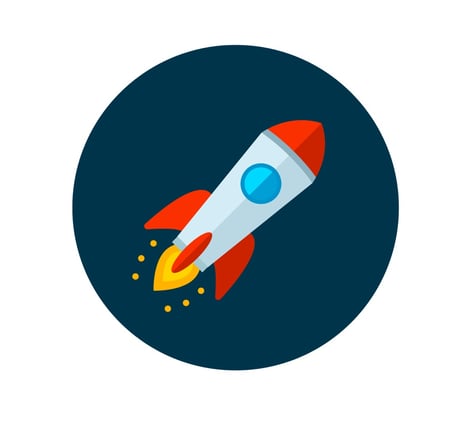 G FUEL used various metrics to track the success of effectively engaging existing customers. As with any well run and successful business, return on investment was a crucial component. In a nutshell, we as a team crushed it!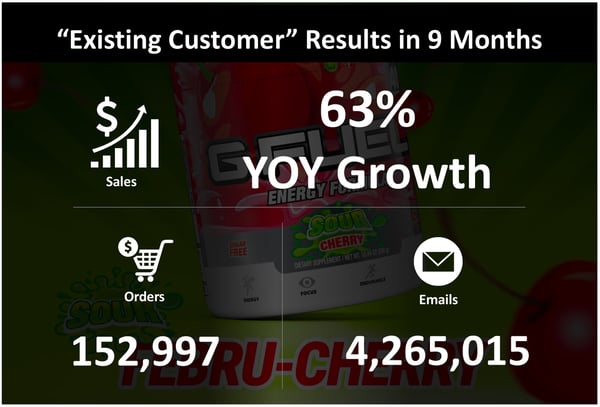 Compared to the previous year, G FUEL's efforts paid off handsomely with a 63% YOY growth in returning customer sales over a nine-month period. This growth represented an additional $2,981,301 in sales from existing customers during that nine-month period.
The even more promising part of these results was our impact on the lifetime value of G FUEL customers. The graph below shows our start date with HubSpot and only 45% of sales were coming from existing customers. Over a nine-month period, we as a team were able to transform existing customer sales to represent 63% of total sales.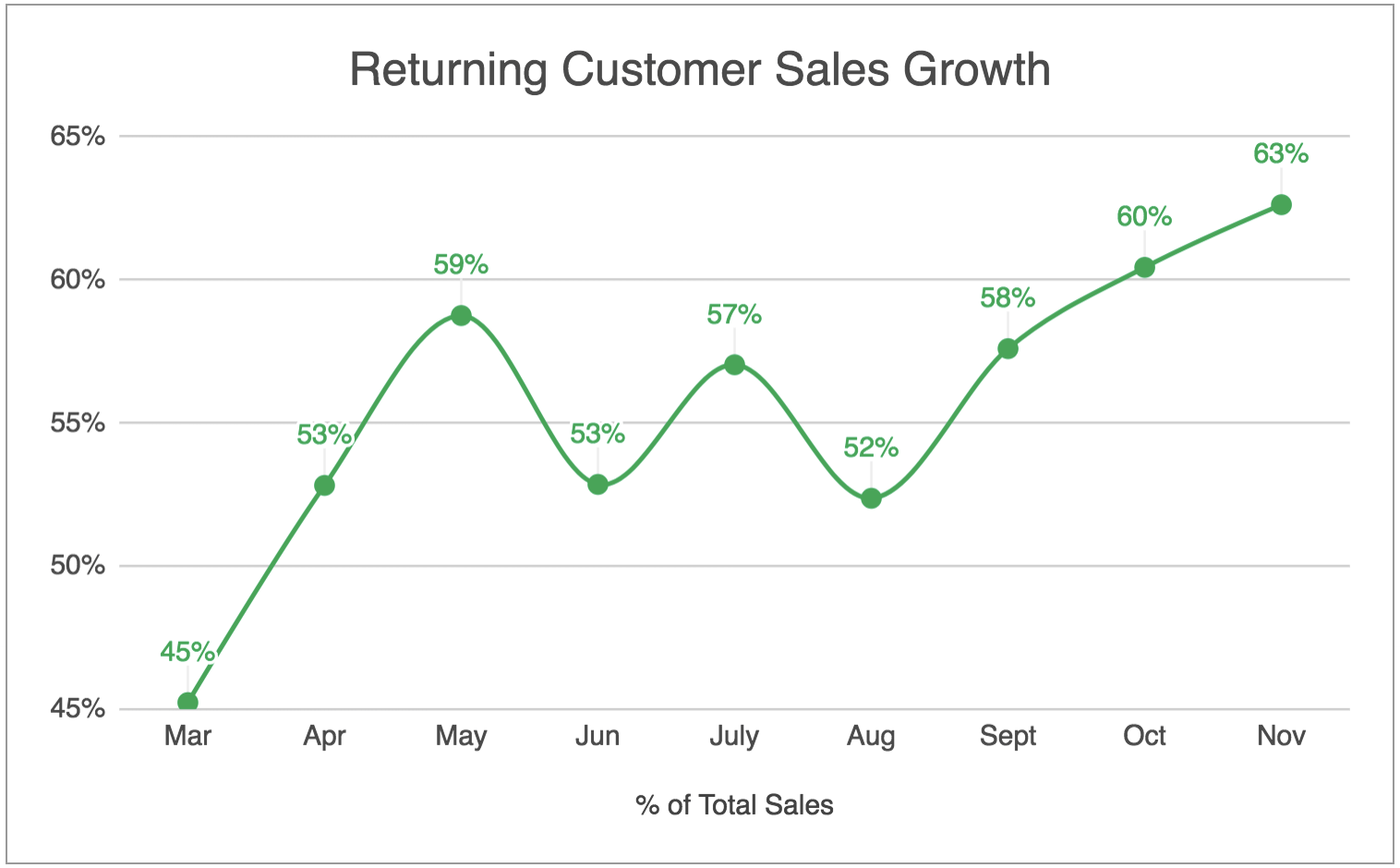 The new e-commerce inbound marketing strategy and tactics also led to more than 430,000 new G FUEL Scoop (G FUEL's monthly newsletter) subscriptions and improved customer communication when operational breakdowns occurred.
G FUEL's review scores also increased dramatically from an uninspiring four Google My Business reviews, to more than 1,500 Google reviews with an average rating of 4.9 out of 5. Talk about RAVING fans - WOW!!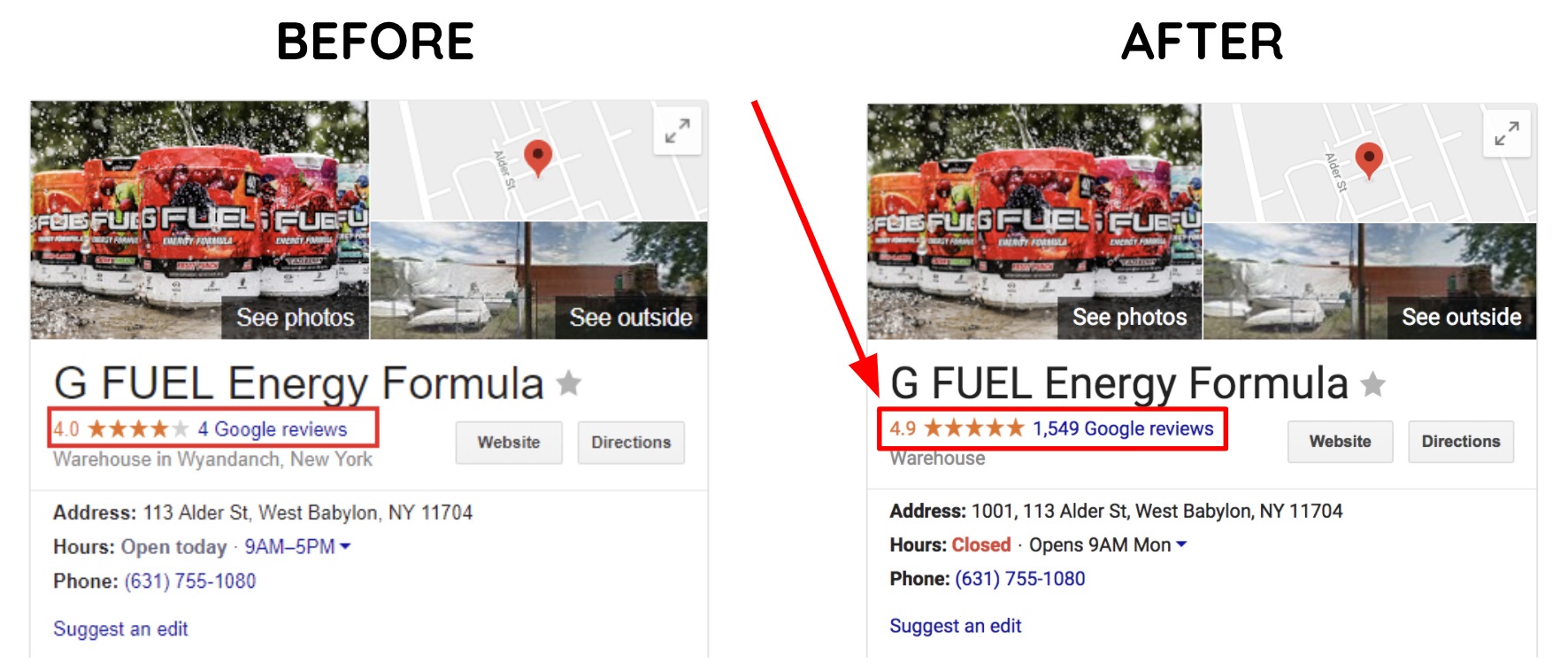 It was an absolute privilege to be brought into the inner circle and be a part of what makes G FUEL a juggernaut in the gaming industry. G FUEL's team is super talented and fantastic to work with on these projects.
A shout out to Cliff, Michael, Jack, Nick, Rachel, Pat, Michelle, Mickey, Sal and the rest the of the G FUEL team.
If you didn't watch the first video at the beginning of this post, check out this one to witness the world that the G FUEL team thrives in.
What the Titans at G FUEL Had to Say
"What's not to like? They are the baddest cats in the jungle! In all seriousness, John (aka J.T.) and Etienne (E.T.) are some of the brightest people that I have worked with in my career. They have exceeded our expectations and have gone above and beyond to make things happen. Not only are they experts in digital marketing, but they took the time and effort to understand OUR business, while making recommendations accordingly. We have absolutely seen an increase in revenue due to their efforts and marketing strategies. On behalf of myself and my colleagues here at G FUEL, we look forward to a long and prosperous partnership with digitalJ2."

- Michael DuBritz (aka, "Magic Mike"), CTO of G FUEL
What's Next for G FUEL?
The eSports scene continues to grow and evolve to unprecedented levels. The new Overwatch League is the first official city-sponsored competitive video game league, with 12 teams from cities all over the United States, Europe, and Asia. Gamers around the globe eagerly anticipate each new match.
Competitive games like Overwatch, Counterstrike: Global Offensive, Call of Duty, and PlayerUnknown's Battlegrounds show us that eSports are here to stay, and G FUEL has incredible opportunities ahead for forging new relationships with gamers all over the world.
If you're interested in seeing what the digitalJ2 team can do for your company's e-commerce inbound marketing efforts, reach out to us today and let's connect.
See Another digitalJ2 Case Study: