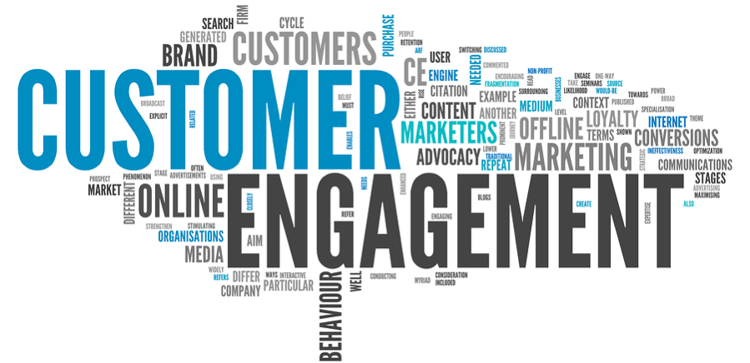 Customers are more than just a source of revenue: they're your strongest marketing voice.
The concept of customer advocacy is one that has fast pushed hundreds of businesses to widespread success.
Customer advocacy revolves around the ability to turn your loyal customers into marketing assets. This is possible through engaging customers online. Your virtual presence fuels customer engagement, which drives your business. Word of mouth advertising and organic brand awareness are the lifeblood of any profitable modern business. Conquer the customer engagement cycle to achieve long-term business success and get more customers.
Shareable Content
If consumers don't want to share your content, you can't expect it to ever get farther than your website. Customers need to find your content relevant and intriguing enough to share it with others via social media, word of mouth, and on their own websites. "Shareable" content is that which prompts people to spread your message.
Make sharing buttons easy to click and clearly visible. Create entertaining content that offers value. "How to" posts are always popular, and so are blog posts with lists. Break up your content with bullet lists and subheadings to make it easy to scan and visually attractive. Spending extra time making your content shareable results in a marked increase in engaging customers online.
Incentivized Referrals and Shares
Every consumer appreciates a bit of incentive to share material or refer a brand to others. While we hope that these things occur naturally, sometimes consumers need a gentle push in the right direction. Offering incentives such as product discounts, store credit, or exclusive coupons to consumers who share your content or refer others to your store can significantly boost the number of new leads that you acquire through your existing customers. Referrals and shares are a major element of the customer engagement cycle. Milk it to its fullest potential by sweetening the deal.
Results-Driven Marketing Strategy
One of the most effective ways to boost audience engagement and take advantage of customer advocacy is to build a comprehensive, results-driven marketing strategy. Focus your strategy on your target audience. A results-driven strategy is one with clearly defined goals and a timetable outlining when you expect to see results. Goals should be measureable in order to track your strategy's performance and make changes. Your marketing strategy needs to make engaging customers online top priority.
Use social media not only as a platform, but also as a way to engage with your audience. Post pieces of content that gives clear value to social media users. Obtain user social media data and analyze it to discover what users of certain platforms want to see from brands. Then, tailor your social media marketing strategy to meet these goals and track your progress. Engaging customers online requires more than just posting regularly on social media platforms. Businesses must tailor their content to speak to their target audiences and fuel likes, comments, and shares.
Creating Organic Brand Awareness
A business can spend all the money in the world purchasing likes and followers to achieve the appearance of popularity. However, these aren't key performance indicators. Instead of focusing on artificial audience engagement, track your progress by analyzing how well your online marketing strategy translates into conversions. The customer engagement cycle offers an opportunity to capitalize on the most effective marketing technique out there: genuine popularity.
---
The more you optimize your content and marketing techniques, the more consumers will reward you with active sharing and brand engagement. For the best tips and tricks for engaging customers online, trust the marketing experts at digitalJ2. We understand the importance of organic brand awareness and know the best practices for feeding the engagement cycle. Use our online contact form to speak with us today, or call (800) 300-2906.
---