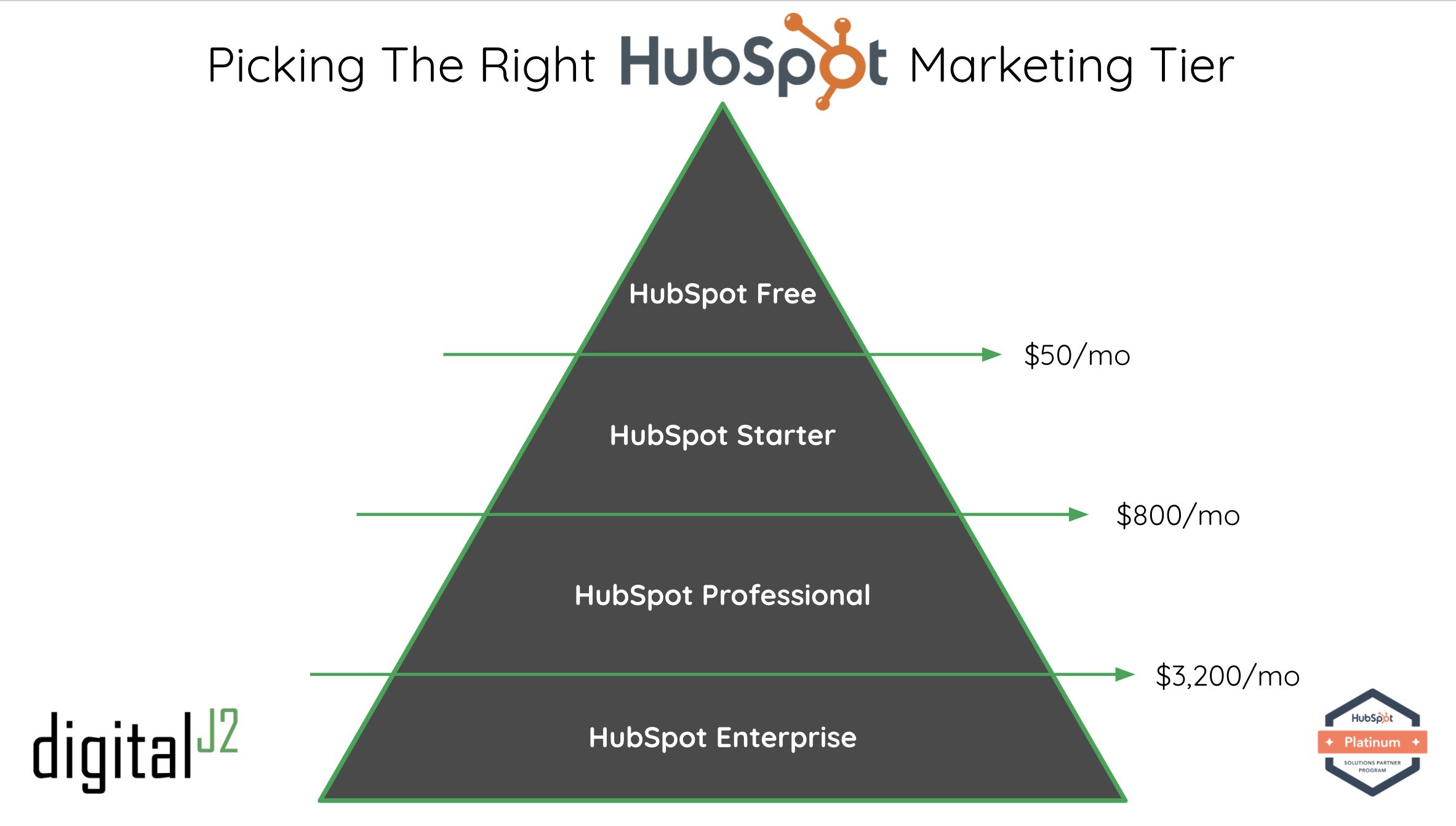 So you've settled on using HubSpot for your digital marketing software. But now you need to pick the plan that is best for your business.
First, you need to know there are four tiers to consider:
HubSpot Free
HubSpot Starter
HubSpot Professional
Hubspot Enterprise
Second, you should ask yourself a few questions before making a choice:
What are my needs and goals?
What is my budget?
What is my inbound marketing commitment?
You don't want to waste money on features you don't need. However, you don't want to miss out on tools that will make your digital marketing easier.
To help you decide what you can and cannot live without, we did a HubSpot Marketing tier comparison and broke down each plan's cost, functions, and purpose.
What Does HubSpot Free Include?
You can't beat the price. The first tier of HubSpot's Marketing Hub is a great way to test out the platform.
Here are the basics:
$0 a month
Store up to a million contacts
With HubSpot Free, you can create basic forms and manage contact records. You're able to send out marketing emails as well as use live chat and basic chatbots. This tier gives you core functionality. You can only create five smart lists and 25 static lists, plus you can only send 2,000 emails a month. HubSpot branding will also appear on all of your assets.
What Does HubSpot Starter Include?
HubSpot Starter lets you experience more facets of the platform without breaking the bank.
Here's the gist:
$50 a month
1,000 contacts included with subscription
$50/month per 1,000 additional contacts
Features that come with HubSpot Starter include lead capture forms, ads, and email marketing. You now get 25 smart lists and 25 static lists plus five times contact tier email send limit per calendar month. A drag-and-drop landing page builder is added and the HubSpot branding disappears.
If you started on HubSpot Free, you should upgrade to HubSpot Starter with caution. This is where you start to pay for contacts in the HubSpot Marketing tier comparison, so it's important to clean out your database.

What Does HubSpot Professional Include?
Now we're kicking things up a notch. HubSpot Professional is designed for the serious inbound marketer.
Here are the essentials:
$800 a month
1,000 contacts included with subscription
$50/month per 1,000 additional contacts
With HubSpot Professional, you are able to automate manual processes and measure the success of your digital marketing campaigns. You'll also have tools to create and track content on the HubSpot platform.
Content Tools
Blog hosting
Content strategy/SEO tools
Social media publishing tools
Video hosting and basic reporting
Calls-to-action with trackable buttons, graphics, and links
SSL certificate and subdomains for hosting landing pages and/or blog articles
Automation and Optimization Tools
Workflows (HubSpot's automation engine)
A/B testing emails and landing pages
Smart content
Custom Reporting
HubSpot Professional gives you more flexibility in analyzing objects and activities in your account through custom reports. There are four types: single data set, across data set, funnels or pipelines, and attribution.
Teams
With HubSpot Professional, you can make sure each user is assigned to a team so you can easily track activity. You can grant or take away access to specific parts of the platform so you don't have to worry about someone changing something they shouldn't.
Salesforce Integration
The HubSpot-Salesforce integration lets you transmit between HubSpot and Salesforce seamlessly. This allows you to maintain consistency between your marketing and sales teams.
What Does HubSpot Enterprise Include?
You've arrived at the top of our HubSpot Marketing tier comparison. Enterprise is designed for large marketing organizations with multiple teams and lines of business.
Here are the facts:
$3,200 a month
10,000 contacts included with subscription
$10/month per 1,000 additional contacts
HubSpot Enterprise is the entire package. It has increased limits on different tools from the previous tiers plus added functionalities:
Hierarchical teams
Single sign-on (SSO)
Content partitioning
Multiple scoring properties
Custom attribution and event reporting
CMS membership (restricting access to HubSpot-hosted pages)
HubSpot Enterprise is great for big companies with lots of leads coming in and large contact databases. The advanced reporting and predictive lead scoring capabilities are invaluable.
Enterprise is also great for marketing teams of any size that have more complex processes and advanced automation needs.
Which HubSpot Marketing Tier Is Right for Me?
You should now have a better sense of your limitations and capabilities, as well as the cost and function of each plan.
Here's a quick recap:
HubSpot Free: A pretty painless way to begin
HubSpot Starter: Extra features without a big financial commitment
HubSpot Professional: Serious inbound marketing potential
HubSpot Enterprise: Best for companies with large contact databases
Keeping your needs and goals in mind, plus your budget and commitment to inbound marketing, will help you choose the plan that helps your business grow.