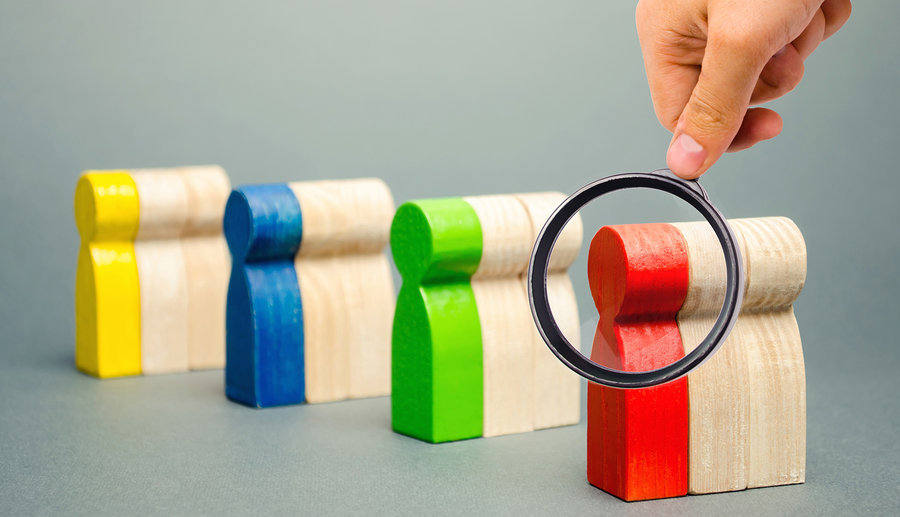 Truly understanding your buyers allows you to approach a conversation, whether digitally or in person, in a much more effective way. By knowing who they are, what's important to them, what they want to achieve, and what challenges are standing in their way, you can effectively reach your buyers.
But how do you know these things to shift your messaging to effectively and efficiently reach and sell to them?
In this article, we will dive into how to create a buyer persona that empowers your marketing, sales, customer service, and product development teams by providing them a better understanding of your ideal customer.
This, in turn, will help them deliver a more tailored customer experience, and thus drive new customer acquisition and retention.
Buyer Persona Creation Action Plan
Now, it's time to dive into the meat and potatoes of creating a buyer persona.
Without a well-defined buyer persona, you don't have any kind of profile to focus on when creating new content.
The most effective buyer personas are based on both market research, as well as customer feedback gathered via surveys and interviews.
From this information, you will create both an Ideal Customer Persona as well as a Negative persona. Negative personas allow your teams to quickly identify who is NOT a good customer and weed out the bad apples early in the process.
Since different groups of people may buy your products for various reasons, you will likely need to create more than one buyer persona. Each persona should capture basic demographic details, behaviors, goals, pain points/challenges, and buying patterns.
Don't Confuse Buyer Personas From Ideal Customer Profiles
Most companies have what's called an ideal customer profile that includes information such as:
Industry/vertical
Company size
Location/Geo
B2B, B2C, B2G business
Etc.
This information will provide a big-picture view of who your ideal and perhaps most profitable customer segments are. However, it doesn't help as much when it comes to creating content that speaks to their desires, needs, and challenges.
It doesn't capture the psychographics that gets to the core of customers purchasing motivation.
Understanding your ideal customer profile is the first step. Once you do that, you can dive a layer deeper by identifying key persona segments within that ideal customer profile.
Building a Buyer Persona
If you think about it, every employee has a different role in the company. And as such, employees face unique challenges, pain points, and goals.
There are several different categories of questions you will want to ask to create a comprehensive persona profile. Before conducting your interviews, make sure to tailor these questions to their world so that it's relevant to them and leads to a productive conversation.
If you're conducting an interview, the ideal time would be 15-20 minutes. People today are extremely busy and may not be willing to dedicate time to an hour-long interview. Let them know you will not take too much of their time but that their feedback is greatly valued by your company.
If you happened to talk to someone who seems willing to spend extra time to provide these details, then even better!
The first part of this questionnaire is related to them personally, while the second part is related to their specific experience with your product or service.
Part 1: Buyer Persona Role & Responsibilities
Role
1) What is your job role? Your title?
2) How is your job measured?
3) What does a typical day look like?
4) What skills are required to do your job?
5) What knowledge and tools do you use in your job?
6) Who do you report to? Who reports to you?
Company
7) In which industry or industries does your company work?
8) What is the size of your company (revenue, employees)?
Goals
9) What are you responsible for?
10) What does it mean to be successful in your role?
Challenges
11) What are your biggest challenges?
Watering Holes
12) How do you learn about new information for your job?
13) What publications or blogs do you read? Do you follow any influencers or listen to podcasts?
14) What associations and social networks do you participate in if any?
15) Are you active on social media? If so, on what channels?
Personal Background
15) Describe your personal demographics (if appropriate, ask their age, whether they're married, or if they have children).
16) Describe your educational background. What level of education did you complete, and what did you study?
17) Describe your career path. How did you end up where you are today?
Shopping Preferences
18) How do you prefer to interact with vendors (e.g. email, phone, in-person)?
19) Do you use the internet to research vendors or products? If yes, how do you search for information? If you don't, who does the research to then report to you their findings?
Part II: Buyer Persona's Experience With Your Product or Service:
Doing Business with [Your Company]:
Take me back to the day when you first decided to explore a potential working relationship with our company. What was going on in your life that made you think about making this move?
How did you hear about our company's solution?
What initially attracted you to us?
What other options were you exploring and what made you choose our solution over other competitors?
Generally, what is most important to you in your selection process?
What were your biggest concerns or reservations (if any) about choosing our solution?
Were you the main person doing research when you found us? If not, who was?
What could make your experience with our company, product or service even better?
What could we do to reach others like you?
Buying Process:
What was your decision-making process when planning to work with us? Was anyone else involved in this process? If so, who? And why or why not?
What would you say influenced your purchasing decision the most?
What are some key factors that would deter you from making the decision to partner up with us?
What does your life look like now vs before? What was the outcome of the decision you made becoming our customer?
** Capture the emotions if possible - how do you feel now vs before using our solution?
Pro Tip: The follow-up question to pretty much every question in the above list should be "why?"
People typically respond with surface-level answers and are not always great at reflecting on their behaviors to tell you what drives them at their core. Probing deeper will help you get to the root of their decisions.
How Many Buyer Personas Should I Create?
To keep things from getting overwhelming, start with the most profitable ideal customer profile. Choose the industry segment that has the most potential for revenue, and then segment out 2-4 key buyer personas in that vertical.
This will provide focus and allow your team to take actionable steps to optimize that customer segment. Once you feel your campaigns are optimized and running well, move on to the next best customer vertical and repeat the process.
Identify Your Persona's Aspirational Identity
As you develop your buyer personas, aim to describe who each persona is now as well as who they want to be in the future.
This allows you to start thinking about how your products and services can help them get to that place of ambition and essentially win the day. You want to understand how your company can serve as a guide to their success.
Example
To help you understand what this looks like, here is an example of one of digitalJ2's buyer personas. These have taken all of the information we've covered above and based on interviews and research we built a semi-fictional person.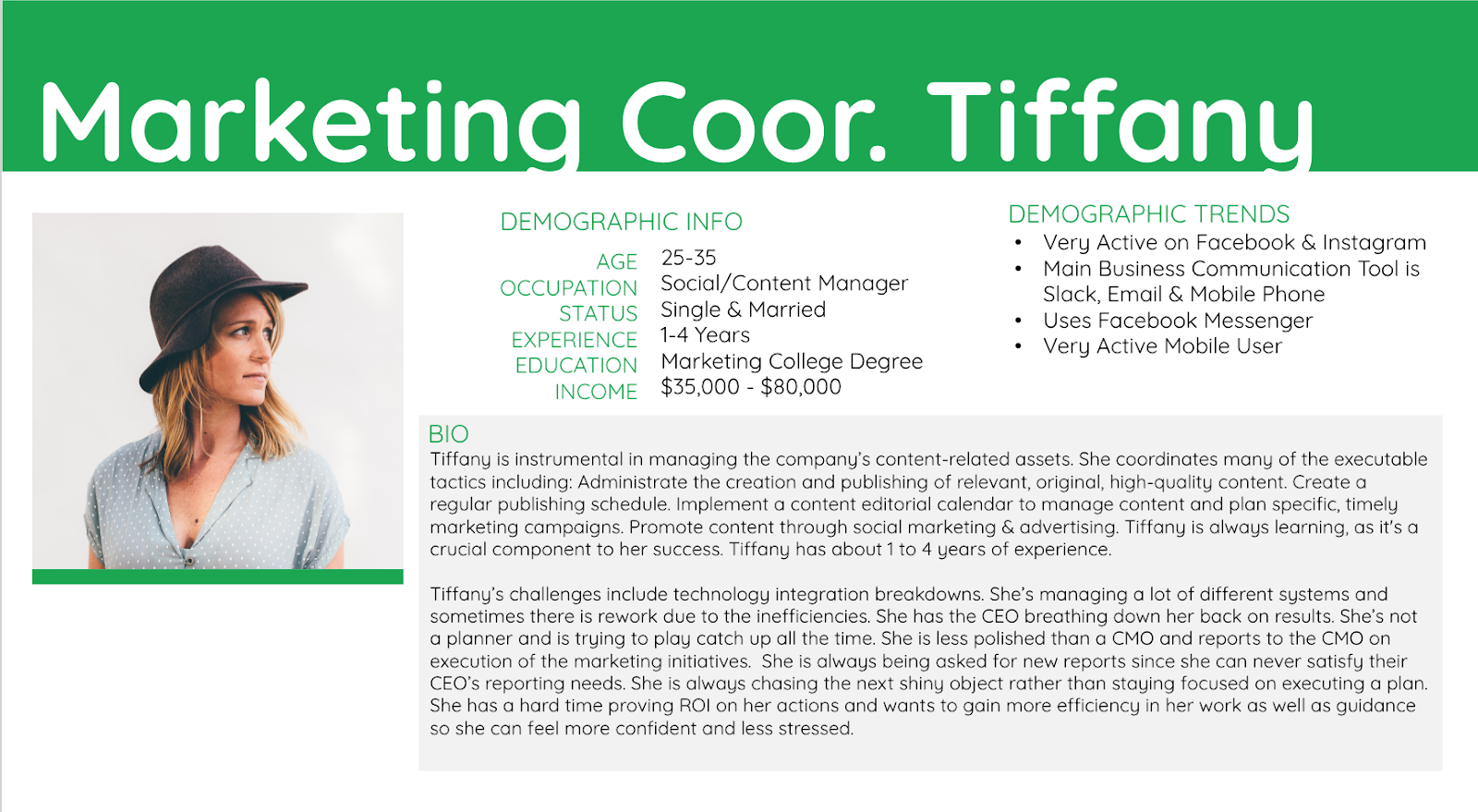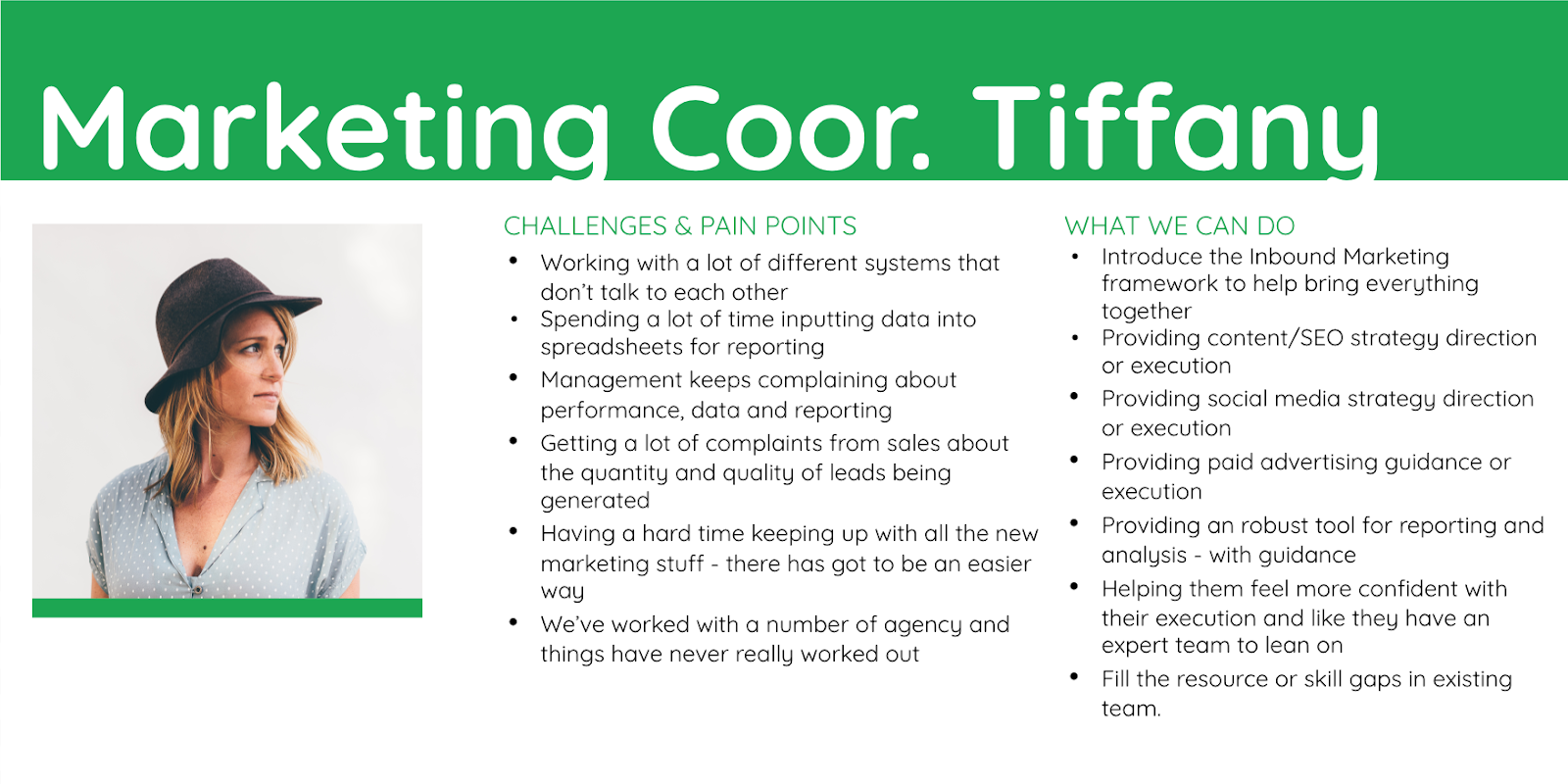 Persona Development Fuels Marketing Success
By taking the time to identify your persona's key ambitions and the challenges standing in the way of them achieving those ambitions, you can then understand how your product or service can help them overcome their obstacles.
Framing your solutions around that will strike a chord and resonate loud and clear with them. You will earn their attention because you will relate to their specific goals and challenges.
And because they feel like you understand them, they will be more likely to trust that you must have the right solution for them.