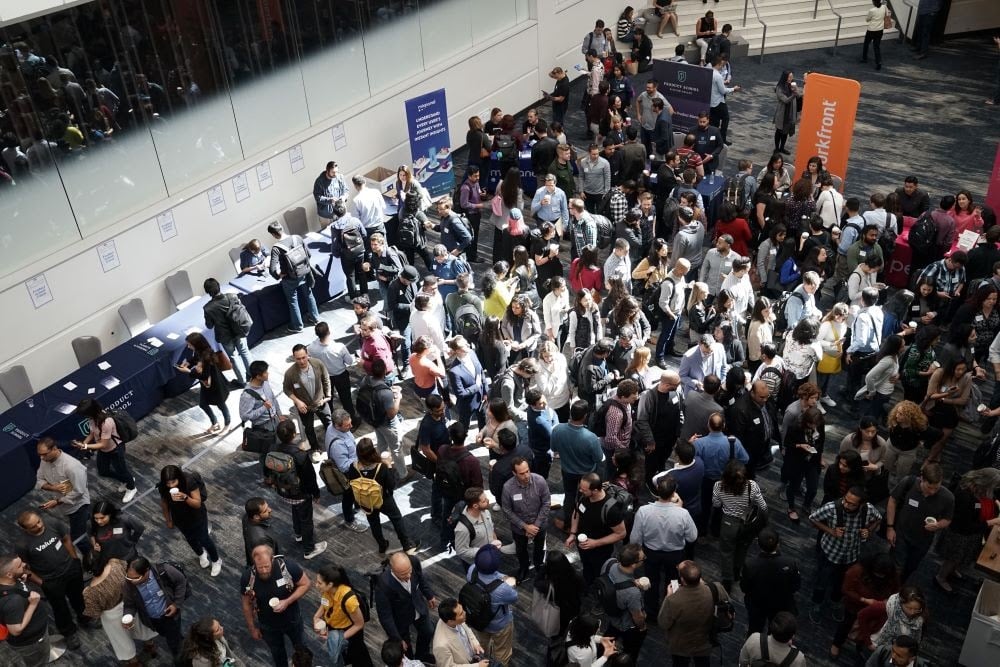 It's hard to compete with the energy and excitement of a live event.
Concerts, sports, and conventions are usually enjoyed with hundreds (even thousands) of other people. However, live events cannot be held during crises like natural disasters or the COVID-19 outbreak.
If your trade show is canceled, you can still reach your customers and push your products by hosting a webinar. There are plenty of free and paid platforms that will help you connect with consumers and make some sales.
Here are the ways to go about hosting a virtual trade show via a webinar that anyone can attend—anywhere in the world.
What Are My Goals for Hosting an Online Trade Show?
That's the first question you need to ask yourself. What kind of experience are you hoping to deliver? What type of content do you want to share? What KPIs and data do you want to track?
Like any other marketing event, your virtual trade show needs to have a strategy. Having key goals and concepts in mind will allow you to target your audience, develop a plan to reach them, and offer the information they want.
Which Webinar Platform Should I Use?
There is quite a pool of webinar platforms out there. Some are free, some you have to pay for, and some have free trials to get a feel for how the tool works.
Here's a look at five examples:
Plans range from $499-$999 per year
500-5,000 attendees
14-day trial for $1

Plans range from $89-$429 per month
100-1,000 attendees
Free trial

Plans range from $79-$299 per month
100-1,000 attendees
Free trial

Free for up to 500 attendees
Plans start at $40 per month
Up to 10,000 attendees

Free
Unlimited attendees
May take 24 hours to get live streaming access
How Do I Develop Engaging Content?
If you plan on conducting presentations, choose speakers who are knowledgeable, draw in attendees, and have an influence on consumers. Allow the participants to ask questions through the comments section or a chat tool, and then have a moderator pass along that information to the presenters.
Since we're talking about a trade show, the products should take center stage. Showcase what you have to offer and provide a wish list that attendees can use to save products they like. Better yet, give them an online shopping cart so they can purchase items they love during the webinar.
When Should I Host a Virtual Trade Show?
You need to do some research on competing events to select a day and time that's optimal for your online event. You should check to see when your target audience is online. You'll want to keep different time zones in mind, as well as the schedules of your speakers.
According to a report from BigMarker, the best day to host a webinar is Tuesday followed closely by Wednesday and Thursday. That's because people are often playing catch up on Mondays and Fridays.
How Do I Promote a Trade Show Webinar?
Keeping the end goal in mind, you should figure out the key selling points of the virtual trade show and work to get those across to consumers. Alert potential attendees by email, social media, and even strategically targeted ads.
Social media is a great place to create a buzz about your virtual event. Come up with an event hashtag and include it in all of your posts. Make an event countdown for Instagram Stories. Create a Facebook Event with all the details and, of course, a link to the webinar.
What Technical Issues Do I Need to Be Ready For?
You should always test your internet connection, as well as your audio and video capabilities, before a virtual event. You need to have backups of any digital visuals you plan to use in case a file goes bad.
Going through a rehearsal isn't a bad idea, especially if multiple people are involved. The smoother the content flows together, the better a customer's experience will be.
What Should I Do After a Virtual Trade Show?
Follow up!
Have a post-event survey at the end of the webinar asking for feedback
Send a link of the recorded event straight to the participants' inboxes
Check any social media posts that promoted the event for comments and questions that didn't get answered during the presentation
This is the perfect time to capitalize on the connections you made with customers during the webinar and build on those relationships. Give attendees a heads-up on other upcoming virtual events or even send them an early invite to come to the next one.
Get Ready, Get Set, Go Live!
If your trade show gets canceled by circumstances out of your control, now you can take back some of your sales and marketing power by pivoting to a digital venue. Hosting your own trade show via webinar allows you to share engaging content with consumers who are eager to see what you have to offer. Holding a virtual event gives you the ability to interact with customers, develop relationships, and make sales far beyond the limitations of a convention center.